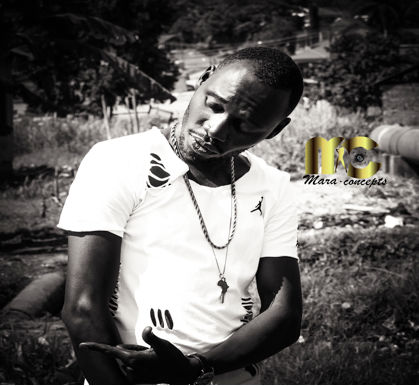 Canowira TImothy: A Rising Star and Alumnus of KIU
Meet Timothy Canowira, an extraordinary upcoming talent also known as Cha-Tix.
A former student of Kampala International University, Cha-Tix is a rising star in the creative arts and is film photographer who narrates his life story to the KIU Giraffe Times, describing his passionate path to success. He graduated with a Bachelor's Degree in Mass Communications.
Who is Timothy Canowira?
I am Timothy Canowira although I am mostly known to my contemporaries as Cha-Tix, which is also my stage name.
How old are you?
Well, about my age, I wondering whether I should be honest or not. (chuckles). Well, I will be making 28 years this year (2017) so I guess that makes me still young enough.
You are a performing artist. Can you please tell us about your music?
My focus is mainly on gospel music and I have a couple of hit singles like Wipola Dance, Swag in Christ, I love Jesus, Wondering, Asante Baba, Njigiliza (translates to teach me) and I am a Solider.
So far, those are some of the songs generating airwave buzz and I am yet to come up with more.
What do you consider as your greatest achievement so far?
Musically and business wise, I think I have achieved a lot. Going back, I started my career in music after Campus because it had become a part of my life of which, it also laid a foundation, business-wise. It is safe to say that music inspired me to start-up my own film and photographic company which I think is a very big achievement.
Tell us more about your film and photographic company?
It is called Mara-Concepts Film and Photographic Company. It basically focuses on documentaries, videography, graphic design, film photography to mention but a few mentioned.
What led you to this point of your career?
How I handle and manage my clients has been key in my success so far. There is a saying that, "it is how you handle your clients, that will give you a push ahead."
Who has been your inspiration to accomplish what you have so far?
I started singing in church ministries but time came and I felt it was right to step out of the box because I knew I was ready to start my own music career.
When it comes to inspirations, the late Philly Mukasa was one of the major influences whose music I enjoyed. Navio is another well-known rapper in Uganda whose career has been an inspiration. I still remember when he used to entertain students at KIU Campus and it is because of him that I become good at raping too.
Business-wise, I was inspired to pursue film and photographic by the owner of BMZMO Media. He really does a lot in photography; film photography, graphic design, videography and many more.
Where do you see yourself in the future?
I would like to resume and pursue my music career further because I had stepped aside to commit to my new film and photographic company. The company also has targets to broaden its market in 3yrs but I hope that the two can frequently work in sync with each other and both achieve success.
Any regrets thus far? What are some of the challenges you face?
So far, there are no regrets in my career as I've advanced but music is frustrating, the older artists try to undermine the upcoming ones. For instance, they (Senior Artists) can call you up to sing at their concerts but when it comes down to financial rewards, monies collected from the concert, they compensate the young upcoming talents with so little, it really boils my veins.
With film and photography, it is disappointing when people despise the industry and on top of that, they take advantage when you want to invest in them.
Given a chance to change the world, what would you change?
I would start with the music industry in Uganda. For instance, it is rare to find Ugandan songs played on international music stations like how the Nigerian artistes have broken boundaries to produce hit songs which have garnered international recognition.
In film and photography, having the best film, videography, graphic design and photography production media house would be a phenomenal change where passionate and creative people would benefit from.
As a former student of KIU, what were some of your worst and best times?
Like many students, examination period was the worst because it was not fun for me when it came to reading books so I would always "bang winter" also known as studying late into the night. During exam periods, I was always extremely busy because I had to read hard and master a lot.
But my best times at KIU were during sports, most especially basketball. I really enjoyed watching the games and also liked to watch Navio come to Campus to entertain us.
What advise do you have for the youth most especially University students?
I would tell them that HIV/AIDS is real, be patient, be focused and be charismatic and hardworking most especially those who like quick things because so many students are facing challenges on Campus.